Has it always been a challenge to get your children to eat vegetables? Mommy, hindi ka nag-iisa! A lot of moms share the same problem of providing good nutrition for children through veggies. But with these fun and creative tips from Lactum, you'll soon get your kids to eat them with much gusto, making you a 100% panatag mom!
Create a Veggie Artwork
Good nutrition for children goes beyond the typical recipes so why not go creative, moms? Maraming colors and shapes ang vegetables and encourage your kids to do this veggie collage? For example, you can make a face artwork made of vegetables! Cucumber slices can be the eyes, a baby carrot for the nose, a slice of red pepper can be the mouth then string beans for hair! In no time, ang inyong anak na mismo ang kakain ng nagawa nyang vegetable artwork.
Make a Homemade Veggie Pizza
Pizza is a big hit with the kids. Take advantage of this so you can get your little ones to eat their vegetables. Your pizza can be as simple as a toasted white or brown bread. For the toppings, 'wag matakot to experiment spinach, mushrooms, tomatoes at kung anu-ano pa! Mix and match to see which new veggie toppings ang magugustuhan ng inyong kids! In a few minutes, makakagawa ka na ng pizza that provides the good nutrition for children!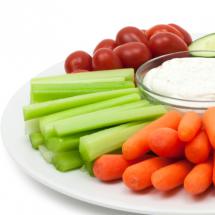 Add Dips for the Veggies
For raw vegetables, try to serve it with dips to make it more enticing for your kids! Maraming dips ang pwedeng pagpilian to combine with veggies: ketchup, yoghurt, mustard sauce, mayonnaise at marami pang iba! Your kids will surely appreciate eating their vegetables so much more! One good example would be broccoli. Maraming mommies ang nahihirapan pakainin ang kids nila ng vegetable na ito. Nakakahinayang dahil it has the good nutrition for children. So to entice them to eat this veggie, pair it with a delicious dip like melted cheese. O kaya naman try carrot and celery sticks with a hummus dip.
Give Them a Veggie Drink
Lactum Mommies, let's face it! Challenging talaga to get our kids to eat their vegetables. Here's another idea: have them drink their veggies! Try this: add veggies with fruits and make fruit-veggie shakes, serve it cold, and watch as he drinks up all the good nutrition for children! You can try something as simple as mixing orange and carrots to make an orange carrot juice or something more experimental like a tropical juice: a mix of pineapples, mangoes and tomatoes.
And speaking of drinks with good nutrition for children, don't forget to give your kids Lactum 3+ or 6+!
Lactum is a high source of Appetite Support Nutrients* like Zinc, Iron, Folid Acid, Thiamin and Vitamin B12, and essential nutrients from the food pyramid to help make your child 100% nourished!
Have fun experimenting with these veggie tips from Lactum, 100% panatag moms!
*High source of Zinc, Iron, Folic Acid, Thiamin and Vitamin B12 for children with poor appetite caused by deficiency of these nutrients.
*with three balanced meals a day in some articles with mentions of 100% nourishment*.