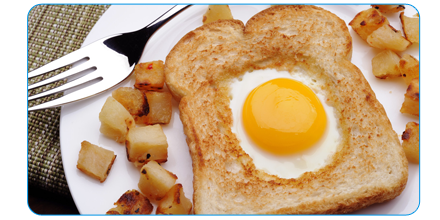 For your busy kid, try a recipe like "egg in the nest." It's easy to prepare and makes for a great snack too! Usually, sineserve ang eggs on top of the bread or in between two slices of bread. Para maiba at matuwa ang kids, why not serve the egg IN the bread? Paano? Simple lang, 100% panatag moms! 
Ingredients:
1 egg
1 slice of bread
1 tablespoon butter
Instructions:
Crack the egg into a bowl and set the bowl aside.
Use a cookie cutter (circle, heart, star, or flower) to cut a shape out of the piece of bread.
Melt the butter in a frying pan over medium heat. Place the bread in the pan and fry it lightly on one side (you can also fry the cutout shape). Flip the bread over. Reduce the heat to low.
Carefully pour the egg into the cut-out hole in the middle of the bread. Cover the pan and cook for 2-3 minutes or until the egg has set in the bread "nest." For an over-easy egg, flip the egg and bread and cook it on the other side. Serves 1.
Remember to give your child Lactum 3+ or 6+ with his meals. Lactum has the essential nutrients found in food groups from the food pyramid. It helps make your child 100% nourished*, and you, mom, 100% panatag!
*with 3 balanced meals a day