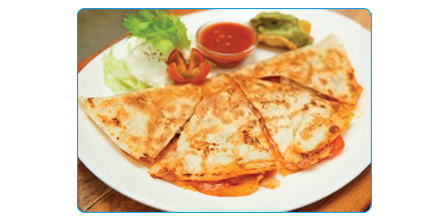 Serving a half-moon pizza with oozing mozzarella and scrumptious pepperoni will surely grab your distracted eater's attention. Try this recipe, moms!
Ingredients:
4 8-inch flour tortillas
1 ½ cups mozzarella cheese, shredded
1 cup marinara sauce
450 g pepperoni
1 tbsp canola oil
Instructions:
Preheat oven to 400 degrees Fahrenheit.
Brush oil over baking pan. Top with tortillas.
Sprinkle 3 tbsp of cheese on each tortilla and add pepperoni on each, as well. Then, sprinkle a topping of cheese on the pepperoni. Bake for 5 minutes. Remove from oven.
Fold each tortilla in half. Bake again for another 10 minutes, turning each tortilla every 5 minutes until brown and crisp. Remove from oven. Serve with marinara sauce.
Remember to serve Lactum 3+ or 6+ with your child's meals. Lactum has the essential nutrients found in food groups from the food pyramid to help make him 100% nourished* at ikaw, 100% panatag!
*with 3 balanced meals a day
Click here to download recipe.