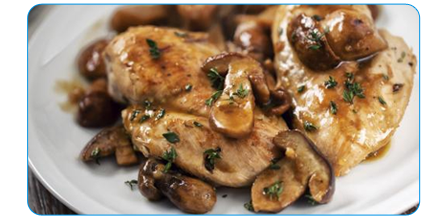 Moms, when your kids reach that age when they become active and busy, least of their priorities na ang pagkain ng maayos. It's just natural to feel worried, mommies that is why you have to ensure that you are giving your kids the right nourishing meals para kahit busy palagi, alam mong completely nourished sila. Try this new recipe perfect for your busy kid: Chicken and Mushroom Salpicao.
Ingredients:
1 1/2 cups cubed chicken breast
1/4 teaspoon paprika, salt and pepper, to season
2 tablespoons cooking oil
2 tablespoons sliced garlic
1/2 cup sliced button mushrooms
1 tablespoon liquid seasoning
Instructions:
Marinate chicken in paprika, salt, and pepper.
Heat oil in a pan. Cook garlic until soft and light brown in color.
Add chicken and cook for 2 to 3 minutes. Add mushrooms and cook for 1 to 2 minutes.
Add liquid seasoning. Add more pepper to taste.
Cook until chicken is done.
Remember to give your child Lactum 3+ or 6+ with his meals. Lactum has the essential nutrients found in food groups from the food pyramid. It helps make your child 100% nourished*, and you, mom, 100% panatag!
*with 3 balanced meals a day
Reference: http://www.yummy.ph